About Harmony Walk In Tubs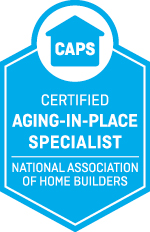 Harmony Walk In Tubs was founded with the goal to encourage and support people who are aging to stay in their homes for as long as they can and to educate them on how to do so safely.
We are a Certified Aging in Place (CAPS) Home remodeling company that provides a wide range of products and equipment, as well as installation to help individuals stay independent within the home.
We will consider your individual needs as well as assess your home, and provide complete turnkey solutions.
When choosing Harmony Walk In Tubs you are getting the most innovative and best constructed equipment on the market today. All of our products are designed for trouble-free installation, lasting durability, and beauty to suit your decor.
We love our customers and welcome your feedback, suggestions and experiences, whether you are searching for Aging Solutions for yourself, your spouse, a parent or friend. We are here to offer support, solutions and experience.
Use our Contact Us page to tell us what we're doing right, what we can improve on or share your personal story. Our mission is to make your everyday tasks safer and more convenient so you can enjoy and stay in your home as long and as possible.
Harmony Walk-in Tub Certifications and Ratings

Underwriters Laboratories (UL)
Harmony Walk In Tubs is one of the few walk-in bathtub manufacturers that has earned the coveted UL Seal of Approval. Underwriters Laboratories is a global, not-for-profit safety certification company that tests and evaluates consumer electrical products.
International Association of Plumbing and Mechanical Officials (IAPMO)
Goverment agencies use the stringent standards set by IAPMO to evaluate plumbing and mechanical systems. Bliss Tubs uses materials that meet or exceed IAPMO's rigorous safety standards.
Crafted with Care in the U.S.A.
Every Harmony walk-in tub is attentively jetted and assembled at our Southern California production facility. The watertight integrity of each walk-in tub is properly tested to ensure our customers get the high-quality product that we are known for. Each member of our production team is fully capable of answering any questions about the walk-in tub's construction and operation.
Uniform Plumbing Code (UPC)
Many of our components are certified by the Uniform Plumbing Code, including all tubing, adhesive sealant, faucet sets and bath drain and overflow kits. The UPC establishes strict requirements and standards that address all plumbing fixtures, distribution pipes, drainage pipes and vent pipes. UPC guidelines are updated frequently, so we are always ensuring that our walk-in tubs meet or exceed the current highest standard.